Ever heard of biofilm? Do you know how to clear it?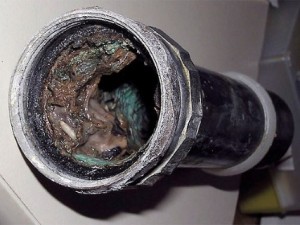 It's slimy, it's sticky! It's here, there and everywhere. We are talking about biofilms. You'll see them in your swimming pool, in clogged pipes and drains, in your toilet bowl, tub enclosures, and in a hundred other places. But, what are biofilms and why do they even exist? Let's find out.
Different types of bacteria bind together to form quite thick and slimy films or clumps which are referred to as biofilms. These clumps hold the bacteria together and also act as glue to hold on firmly to the walls or other surfaces. If you always thought that bacteria are self-sufficient organisms living on their own, we'd like to let you know that it isn't true in most cases. They live in well-thought-out colonies. Generally, bacteria get into strong bonds forming an adhesive cell matrix. You could call it a mutually beneficial relationship that helps them communicate with each other effectively and benefits them while collecting food. What's in it for you? Well, these strong bonds are extremely hard to get rid of when they thrive in your pool, water tank, sink, kitchen or drainpipes.
It is important to completely eliminate biofilms from your surroundings due to the negative impact it can have on your health. Product decay, drain blockage, slippery pools, lower production effectiveness, equipment failure, rust & corrosion, bad odour and infections are just a few examples of the harmful effects of biofilms. Not only at home, people working at hospitals, catering service providers, water system companies, dairies, etc. too suffer from the ill-effects of biofilms. When the growth of the slimy substance gets out of hand, cleaning and maintenance can cost a lot. So, it is best to call the experts to help you eliminate all traces of the ghastly biofilms.
How do cleaning professionals combat biofilms? Let's consider the example of pipelines as they are most susceptible to biofilm formation. Crystalline Cleaning and Environmental Services helps residential and commercial complexes in the UAE fight biofilms. At Crystalline, we use a special pipeline disinfection chemical and state-of-the-art cleaning equipment to eliminate slime, biofilms bacteria and the pathogenic legionella. The chemical removes all traces of biofilms, leaving a cleaner pipeline. The before and after pics are shared with our clients to ensure satisfaction of the level of cleaning and disinfection. While, we do have a commitment for hygiene and attention to detail, we are safety-, environment- and health-conscious too. All our cleaning operations are performed using stringent safety measures. Crystalline uses only environmentally friendly products.
Pipeline disinfection can reduce the risk of microbial contamination. Crystalline provides all the correct field practices for preventing microbial contamination of the water flowing in water mains, storage tanks, and other distribution system components. However, though biofilms are completely eliminated, they love moisture and new colonies of bacteria will try to get back into the pipelines over time. Periodic cleaning and maintenance of the pipelines is the optimal and cost-effective solution! For a one-time or periodic biofilm elimination service for your pipelines, contact Crystalline Cleaning and Environmental Services at: +971 2 650 8930 or +971 55 716 7017. You may also write to us at: info@crystalline-uae.com or jasman@crystalline-uae.com.